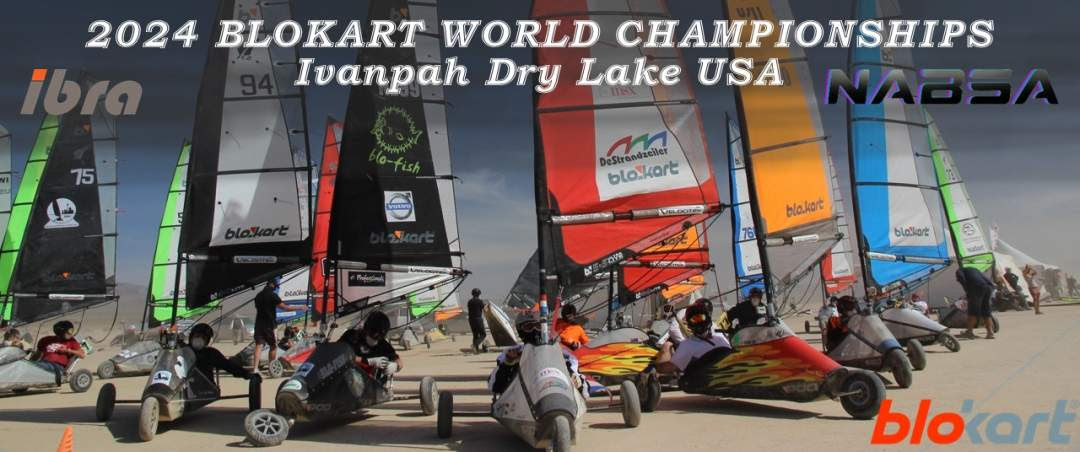 2024 Blokart Worlds Newsletter #1
Welcome to the first of our regular Newsletters leading up to the 2024 Blokart World Champs. Over the coming months we will share useful information related to the event and the surrounding area.
Official Announcement
First up, thank you for your patience while we ironed out a few logistics. We can now officially confirm the dates for the 2024 Blokart World Championships, hosted by the North American Blokart Sailing Association (NABSA) and the International Blokart Racing Association (IBRA) on Ivanpah Dry Lake, Primm NV.
Key dates for the event are; Track available for practice: 2-5 April NABSA Racing: 6-7 April Worlds Racing:  9-12 April
We expect to have entries open and NOR released by 1 August Many of you will have already sailed at Ivanpah so the quality of the lake as a race venue needs no introduction. For anyone who has not sailed there before, it is a 'bucket list location' and really worth the trip!
Worlds Rental Karts
Blokart International are making available a limited number of rental karts for the 2024 World Championships. These will be allocated on a first come, first served basis, to those traveling internationally to the event. The Karts will be brand new rolling chassis, excluding sails and mast, and will include composite 50psi rear wheels with Blokart tubeless tyres. IMPORTANT: Unless the standard Fork is requested, the karts will also include a new alloy Big Fork with a Composite 50psi Wheel to save competitors from traveling with a Fork and Wheel. The Karts will be Production spec only, no performance downhauls, pod's foot plates etc. Competitors are permitted to upgrade the rental kart to Performance spec using their own equipment, but must return the karts in Production spec as supplied. Karts will be available for collection on the evening of April 4th, the day before registration and practice day of the US Nationals or by prior arrangement with Ash. Karts should be returned clean with production components fitted as supplied. Cost to rent a rolling chassis will be US$400
To reserve your kart, please contact Ash by email ()
Deadline: December 1st 2023 for Reservations & Payment
Worlds Parts Orders
Orders can be placed for Blokart Parts to be delivered at the event, saving you from having to travel with them. BKI has a warehouse in Salt Lake City so shipping is affordable. USA Pricing will be invoiced, including a Worlds Pre-Order Discount, so contact Ash (
) for a quote. Payment will be required in March 2024, prior to traveling. We will have limited stock of parts and accessories available at the event. However please note that waiting to purchase parts at the event could risk us selling out and the item/s you need be unavailable. Travel Safe! See you soon.